Dear friends
An "inherited" saintpaulia (African Violet) had an old, thick stem sticking out of the pot, which had stopped flowering, and the leaves were wilting one by one. I carefully took off a couple of still healthy leaves and suspended them over a jar of water, placing them in the corner of a windowsill. I checked regularly – first nothing, then some tiny roots appeared and gradually lengthened. But last Saturday I found that around the bottom of the stems were clusters of new leaves growing – a complete new plant was forming.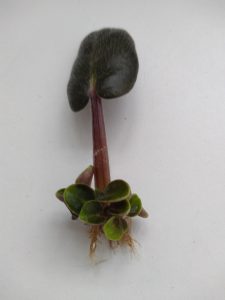 We've done a lot of waiting in the last year – waiting for lockdowns to ease; waiting for vaccinations; waiting to be able to hold and hug our family and friends again. Lent too is a period of waiting and preparation, at the end of which we meet a whole range of human emotions – the celebration of Palm Sunday, the intimacy of the Last Supper, the agony of Gethsemane, betrayal, "mob rule", cruelty, death, deep sorrow, fear, and then the most unexpected joy and excitement – He's alive!
For Jesus' followers, once they had got over the initial surprise of His resurrection, things began to make sense. As they thought through His teaching they could see that He had been pointing to this, to fulfil the prophecies, and to usher in a new era of God's kingdom.
In John 12:24, Jesus says "unless a grain of wheat falls to the ground and dies, it remains only a single seed. But if it dies, it produces many seeds."
Jesus' death and resurrection brought not only new life to Him, but an offer of new life for all of us. The disciples did not say "that was an interesting interlude in our lives" and then return to their previous occupations. They gathered together, waiting, until the Holy Spirit was given at Pentecost. Then they set out to follow Jesus' instruction given in Matthew 28:19 to "go and make disciples of all nations, baptising them in the name of the Father and of the Son and of the Holy Spirit"
As we celebrate Easter and the new life that it brings, made more poignant this year as we start to emerge from a year of coronavirus, what have we learned that we now need to put in to practice?